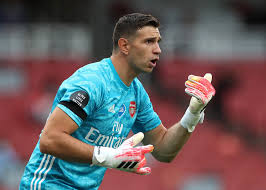 Arsenal goalkeeper, Emiliano Martinez, believes he would be successful at the club.
The Argentine has been at the club for ten years and did not always enjoy success.
But he has received his first-team chance under Mikel Arteta and has grabbed it with both hands.
"I was emotional," said the Argentine keeper of his team's semi-final win over Manchester City in the FA Cup.
"Not because we beat City, but more because of how much I have been fighting to play in a final with the club I love.
"I was delighted, for what I have been through.
read also:Inter Milan delay offering Emiliano Viviano contract
"Obviously you have to deal with frustration and lack of game-time, but I always believed that I could do it, and I had done it – but I still think that's not enough. Obviously you need to beat Chelsea to complete what you have been fighting for.
"I have been fighting 10 years to win trophies, not just to reach a final."
The post Arsenal keeper: I would be successful at the club appeared first on Sporting Life.