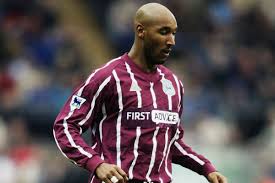 Former French striker, Nicholas Anelka, has revealed his decision not to sign for Liverpool permanently.
Anelka impressed fans when arriving on loan from Paris Saint-Germain in December 2001, scoring five goals in 22 games for the rest of that season.
But the Frenchman did not stay, despite many fans assuming he would sign permanently in the summer.
Explaining the decision, Anelka told the Liverpool Echo: "This is my biggest regret as well [not signing permanently] because I knew it was the perfect match. Everything was perfect! I loved everything about the club.
"I had an amazing relationship with the fans. I loved them and I think it was reciprocal.
"Looking back, I am proud to have worn the jersey of this legendary club and to have known this stadium and these amazing fans."
He laid the blame on the foot of then manager Gerard Houllier, saying:
"It's simple: it didn't happen because Gerard Houllier wanted to pay a lower salary. It's acceptable but you have to say it.
"I wanted to sign from the first minute. Of course a permanent move was discussed from the first day I joined the club.
"If you look at the first time they introduced me in the press conference, I said if I could sign now, I would but Gerard Houllier wanted a loan because he was not sure.
"In the middle of March, we were in negotiations to sign. PSG shareholder Alain Cayzac said to me Gerard told him that Liverpool would sign me.
"Later on Gerard told me face to face he'd sign me permanently.
read also:Anelka names Wenger, Allardyce as best managers
"In the middle of April we reached an agreement about the salary, which had stalled things a little, but I was expecting to sign my contract when the league was over but there was no news from PSG and no news from Liverpool.
"I heard on the news that Gerard Houllier was after another player so that's how I knew they were not going to sign me!"
The post Anelka reveals why he rejected chance to join Liverpool appeared first on Sporting Life.